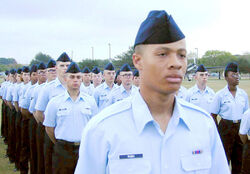 Airman Basic (AB) is the lowest enlisted rank in the United States Air Force (USAF), immediately below Airman. The pay grade for Airman Basic is E-1.
Every cadet starts as a Cadet Airman Basic upon joining Air Force Junior Reserve Officers Training Corps, therefore holds the equivalent responsibility of a basic recruit. A C/AB's primary duty is to absorb information and orient him or herself within the unit.
Rank
Cadet Enlisted
Cadet Officer

Army,
Air Force,
Marine Corps

Navy,
Coast Guard
Ad blocker interference detected!
Wikia is a free-to-use site that makes money from advertising. We have a modified experience for viewers using ad blockers

Wikia is not accessible if you've made further modifications. Remove the custom ad blocker rule(s) and the page will load as expected.