FL-022 is located south of Eglin AFB, i
Group FL-022
Edit
With a current cadet corps of 190+, Group FL-022 is an Honor Flight with Color Guard, Athletic, Rifle, and other teams. Color Guard & Rifle Team are the predominant teams, almost always placing 2nd or 1st in drill competitions.
An Honor Flight
Edit
"Leadership by Example", FL-022's motto, is based of the core tenants of the Air Force. The inteded affect of assuming this motto is to show lower cadets "how to act responsibly".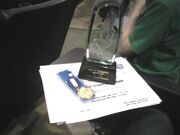 Ad blocker interference detected!
Wikia is a free-to-use site that makes money from advertising. We have a modified experience for viewers using ad blockers

Wikia is not accessible if you've made further modifications. Remove the custom ad blocker rule(s) and the page will load as expected.